Join us for another weekend of illuminated public art, brought to you by Commerce RI's Take It Outside initiative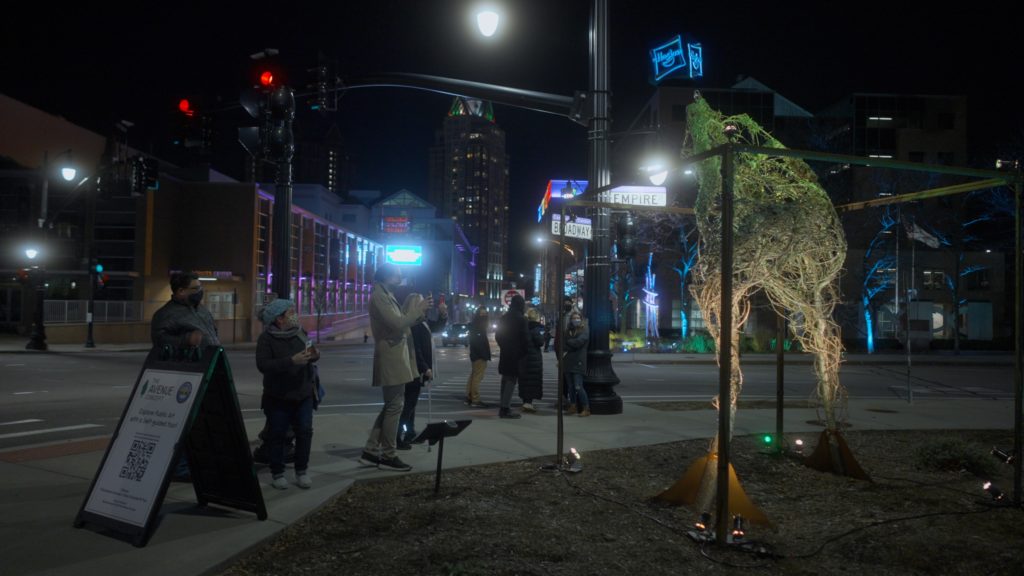 On November 27th and 28th we showcased public art in a whole new light – literally. With support from Commerce RI's Take It Outside initiative, we illuminated 11 murals and sculptures around Downtown Providence for a special two-night limited engagement. The community response was immediate and enthusiastic:
"Downtown has become a nighttime walking gallery this weekend!"
"Look at how a single candle can both defy and define the darkness (Anne Frank) Thank you for illuminating our city with spectacular culture and creativity."
"#TakeItOutsideRI & @avenuepvd put on a beautiful illuminated display of the murals and sculptures downtown last night!
Those were just a few of the reactions on social media. Well, we've got great news: We're turning on the lights again! Join us for another limited engagement of #takeitousideri x #avenuepvd, Friday, December 18th and Saturday, December 19th from 5-10 p.m.
You can also use our new interactive, self-guided tour to explore the art (be sure to download the app), and shop and dine local businesses for the holidays while you're down there. Check out our guide to taking it outside here.
Be sure to share your experience on social media. Tag us (@avenuepvd on Twitter and Instagram, @TheAvenueConcept on Facebook) and use the hashtags #avenuepvd and #takeitoutsideri.
Special thank to our partners for helping us Take It Outside: Commerce RI, The Providence Warwick-Convention and Visitors Bureau, Providence Department of Art, Culture + Tourism, InDowncity and ATR Treehouse.
See highlights from our first Take It Outside lighting!