"Follow Your Heart" to Emmet Square, where our 2020 Public Sculpture program begins
Follow your heart straight to Emmet Square (corner of Fountain and Dorrance Streets) in Downtown Providence and the journey will begin. That's where we recently installed the first piece in our 2020 Public Sculpture program*, this delightful wood and polystyrene creation by Warren-based artist Mark Wholey.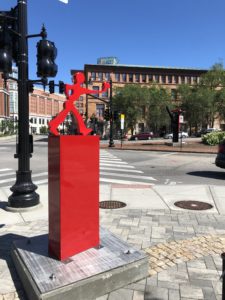 Follow Your Heart is a whimsical piece that was previously on display outside Warren Town Hall. It's a visualization of the belief in oneself, a positive image showing a figure reaching beyond limitations towards a goal.
It's an appropriate introduction for what's to come later in the summer and fall. This year, for the first time, our Public Sculpture program will be presented as a body of work centered around a theme. Our esteemed jury, consisting of archivist and historian Janaya Kizzle, filmmaker (and former Avenue Concept board member) Carla Ricci and gallery owner Cade Tompkins, dubbed the series Journey. As our Sculpture Program Manager Brian Dowling explains, "They landed on that title as they saw each artwork relating to that idea in different ways. The varied artworks utilize elements and themes of adventure, movement, use of negative space and exploration of the unknown."
Brian explains further: "Although the jury landed on the title Journey many months ago, both the title of the exhibition and the artworks selected will now have dialogue with the events that occur in our community. Covid-19 and Black Lives Matter rallies are part of the context that these artworks will be viewed within. Follow Your Heart can be seen as a harbinger of positive change, a striving for that heart that is just within reach – in relation to the pandemic that could be compassion, community, appreciation, good health, a cure, love, etc."
The artworks still to come in the series are a closely-guarded secret at the moment, but they'll be worth the wait. For now, enjoy the first step in the journey.
*We previously installed two other sculptures earlier this year as part of our public art partnership with Tiny Bar, but they are not part of the "Journey" series. However, you really gotta check out "The Icosahedron" and "The Rusted Spire" by Christopher Knight – especially at night. Grab a drink at Tiny Bar while you're there.