The internationally renowned artist will create a new large-scale mural at Open Door Health, RI's first LGBTQ+ health clinic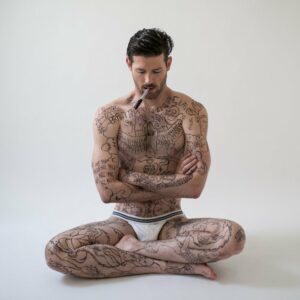 When Open Door Health, Rhode Island's first LGBTQ+ health clinic, opened its doors at the Pearl Street Lofts building in Providence last year, they announced their intention to collaborate with us on the creation of a new large-scale mural. After a long, thoughtful process of preparation and development, we are excited to launch the mural residency on July 16 with the arrival of Brian Kenny.
Brian Kenny is a multidisciplinary artist who has exhibited in galleries, museums, theaters and alternative venues in the US, Canada, Russia, Israel and across Europe. Using an array of media including drawing, painting, textile, video and performance, his artwork is bright and vividly expressionistic, often autobiographical, and reflective of queer identity, shifting societal perceptions about gender, sexuality and politics, urban living, and wanderings of pure imagination and creative experimentation. Kenny's commercial and fashion work includes art and design commissions and collaborations with Onitsuka Tiger (Japan), Christian Lacroix (Paris), Walter Van Beirendonck (Belgium), The Highline Park (NYC), Bruno Magli (Italy), and Please Do Not Enter (Los Angeles).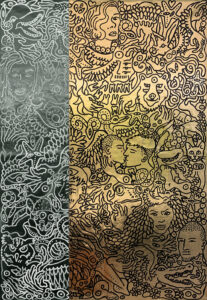 The new work at ODH will feature Kenny's signature line drawing style, which the artist has prominently showcased in murals at the M3 Hotels in Geneva, Switzerland, J. Crew headquarters in New York City and the PRIED exhibition at The Society of Arts & Crafts, Boston (pictured, right).  Kenny's stylized tapestry of interconnected line drawings will incorporate LGBTQ+ iconography and portraits, as well as references to local imagery like native flora and fauna. The color palette will make prominent use of the colors of the trans flag (pink, blue and white), as Kenny has a particular interest in honoring that community.
We can't wait for folx to see this important new contribution to public art in Providence. Thank you to our friends at Open Door Health for helping to make public art happen!
In addition to funding provided by Open Door Health, the project is made possible with support and community input from the Pearl Street Lofts Association, Armory Revival Corporation,  Adler's Design Center & Hardware, and Hilton Providence.