Local Providence artists building and growing from national and international connections through the TAC Mural Program
As the mural program developed over the years, beginning in 2012, The Avenue Concept (TAC) sought to go beyond installing exhibits toward cultivating relationships between local, national, and international artists. This involved establishing production partnerships between artists during the installation phase, enabling them to learn from each other and exchange ideas over technique and process. 
This post tells the stories of two local Rhode Island artists – Kendel Joseph and Ryan Richardson – who collaborated with national and international artists, each with unique takeaways on their journeys to develop their work, process, and style.
Kendel Joseph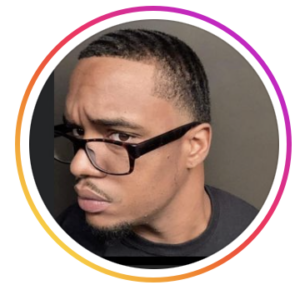 Kendel Joseph is a self-taught artist born and raised in Providence. He specializes in a highly stylized version of expressionist realism inspired by renaissance style portraiture and expressionism found in contemporary arts such as street art and graffiti. His work is characterized by his effort to capture the soul of his subject and his deep understanding of how light elaborately explains form. Offering a vivid viewpoint into his world, he exemplifies the meaning of "self-taught" in each work of art by building his portraits over several layers, masterfully creating the illusion of 3D depth and light. Kendel is known for his skills with spray paint, creating large-scale realism paintings without stencils, only his imagination.
Before he joined TAC in 2022 as the Paintbar Specialist, Kendel collaborated with TAC in several endeavors, including mural work, an artist residency, and supporting international artists in implementing large-scale murals in Providence. In 2020, he collaborated with other Rhode Island artists, including The Lady J, AGONZA, and ABOVE, with each artist designing a letter in a mural that read: VOTE. Kendel used the 'V' to depict two local artists, Nafis White and Jacques Bidon, citing them as inspirations for his career as an artist.
Kendel went on in 2021 to design and implement a mural for the Weybosset facade: Ode to Artist in Spraypaint. The five artists depicted are musician Spocka Summa, multi-media artist/activist Shey Rivera Ríos, artist/AS220 founder Umberto Crenca, muralist/artist AGONZA, and artist/educator Dana Heng. "I chose these five local artists to highlight inspirational artists and people of color who have made immense strides to build Providence's art community. It is essential to show the cultural diversity in Providence, and I believe that representation matters within our community."
That year, Kendel also joined other local artists Joanna Vespia and Alice Firefly as artist assistants helping nationally-recognized artist Garden of Journey execute the large-scale downtown mural Salt Water. Garden of Journey's design for Salt Water captures polarizing concepts coexisting: creative vs. destructive energy, fluidity vs. geometry, and density vs. negative space. Her abstractions combine vibrant textiles across the African diaspora through shapes, colors, geometry, patterns, and culture into the fabric of life. 
At that point, Kendel was already working on scaling up his work. As a freehand artist, his process differed significantly from Garden of Journey's use of projectors to sketch proportions and achieve precision. However, in working on Salt Water, he gained insight into new methods and ways of working. In Kendel's words, collaborating with Garden of Journey "put the punctuation on tackling something so big." Behind the scenes of each large-scale mural is an intricate dance between the artist, the wall, the machinery, the materials, and the vision. Kendel says, "It's easy to see the end product and not realize how much work and skill it takes and goes into making something like that."
Kendel's learning journey focused on drawing freehand at a large scale, a skill few in the world have mastered. Learning to draw freehand on paper to walls and then large-scale walls has been far from straightforward. He says, "Using spray paint, I'm against the wall, so I would have to step back to see my proportions. That's not easy to do when you're on a lift – you can't step back and see the larger picture. So I just learned to use a roller at a distance and draw with that."
Kendel explains that when TAC brought ARYZ to Providence to create a large-scale mural at Emblem 125, observing ARYZ and watching the process from beginning to end was useful for honing his own freehand mural creation. He highlights the challenges in achieving accurate proportions with constraints posed by spray paint and using large walls as a canvas. "It has a lot to do with stepping back and reconfiguring. With each layer, you build up a version, and you get closer to being accurate in proportions. Through the layers, you can edit. With spray paint, I do a lot of layers in that way. I create my skeleton drawing, but it can still be unforgiving since darker colors bleed through with spray paint. I've gotten better over time at getting that skeleton process right the first time," he says.
The challenges of spray paint as a medium also capture some of the biggest sources of inspiration for Kendel. He believes that spray paint is one of the most versatile tools. With spray paint, "there are a lot of things to learn, and there's a great learning curve, so it's also really challenged me as an artist — just figuring out how to make realism happen with this toolset."
Going forward, Kendel strives to take his works even bigger and to expand his subject matter. "I'm a perfectionist in that way. I'm my worst critic, which is a double-edged sword. But I think it's helped me constantly evolve and push myself to do the next thing. I think I evolve every time I make something; every drawing isn't finished." In the end, Kendel is striving for emotional power. "I just want to make something that makes people feel things."
Ryan Richardson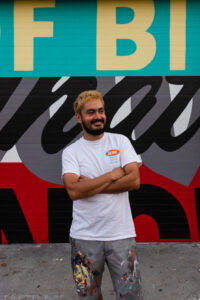 Rhode Island artist Ryan Richardson, who hails from Chile, is a muralist and sign painter who works to collaborate with other artists and clients to develop and execute visual content that embodies the community and enhances the surrounding environment. His portfolio includes not only illustration-based work but also typography. Ryan likes to reinterpret old advertisements in his work, allowing them to speak to current issues in society. 
With no formal art training, Ryan never set out to be an artist. He excelled at art growing up, so many expected him to enroll in art school and become an artist, but he rebelled against that, instead turning to music. But as he continued to succeed in art, it grew a stronger gravitational force, and he gradually grew into the position of a self-taught professional artist.
First inspired by local artists like Evoker, Ryan developed an early interest in typography and explored that interest through sign painting and an appreciation for the graffiti scene in Providence. His professional career in the art world started with sign painting for local businesses. He appreciated the finite task of, in his words, "getting the perfect letter." While he enjoyed the work, projects typically came with constraints dictated by the client, sometimes leaving less room for creativity and experimentation than he would like. During the covid-19 pandemic, he established Look Alive Signs as an independent sign-painting and mural business to grow and diversify his body of work.
While working for Providence Painted Signs, Ryan met local artist Greg Pennisten, who introduced him to TAC. Ryan's first project in 2022 was commissioned by TAC in partnership with the Drug Overdose Prevention Program, Division of Community Health & Equity, Rhode Island Department of Health (RIDOH) to create one of several murals with five partner agencies to contribute to client and community health and well-being goals. 
His mural, Growth, set at Project Weber/Renew's Broad St. location, was a unique opportunity for Ryan to create a piece that provides daily impact and meaningful encouragement to its viewers. In his words, "The piece has an ongoing life. Sometimes once you've seen something a few times, you're kind of over it, but with Growth, it seems people appreciate it daily on another level… I don't think I get that out of everything I do, so that's unique."
Ryan's next project with TAC was a deep dive: supporting internationally renowned artist ARYZ in implementing the large-scale downtown Providence mural at Emblem 125. As Ryan describes, "It was a big point to go from the covid-19 pandemic to rebranding myself on my own as a self-taught artist to having that opportunity with ARYZ come through."
Through the collaboration, Ryan found working with large-scale mural equipment like lifts valuable, mainly where it concerned pushing himself to overcome his fear of heights. However, the biggest takeaway for him from the experience of working with ARYZ was learning from the artists' research and preparation process. "It was about getting to know ARYZ and his appreciation for fine and contemporary art. Until that point, I knew what everyone knew… so that was a big eye-opener for me. It was what I needed to open that door."
That turning point continues to influence Ryan's work today, as he pushes himself to explore new ideas, engage in the contemporary and fine art world, and experiment with new evolutions to his style, process, and subject matter. His work continues along the strands of sign painting together with new endeavors in large-scale solo mural work.
Last fall, through the TAC Mural Program, Ryan implemented a large-scale solo mural on the Apollo Roofing Company's facade. Called Lost in the Big City, the piece exemplifies elements of Ryan's artistic style by juxtaposing old advertisements to convey its message. As he worked on the mural's design, he began to see the topic of gentrification in Providence come into the foreground, and he focused the mural on that issue. The woman's concerned look in the mural and the question, 'What is the answer?' all are centered around this theme. 
Ryan's journey in experimentation led him to push boundaries in new ways to communicate complex ideas through his art. He says, "It was cool to have some social commentary on the situation. That's what I like about taking old vintage advertisements intended to sell a product, but then you find these little phrases within them that reflect a bigger picture when incorporated with other stuff around it."
Both Ryan and Kendel have had long and intricate journeys to the points they are now as artists. Collaborating with nationally and internationally recognized artists has been one crucial stepping stone in this evolution, allowing them to extract techniques and ways of working that fit with their own processes, propelling them forward in developing their unique styles.
Keep up with these incredible artists here:
Kendel Joseph: @kendel_arts
Ryan Richardson: @lookalivesigns