Enhance your enjoyment of our murals and sculptures with The Avenue Concept Art Tours app for your iPhone or Android device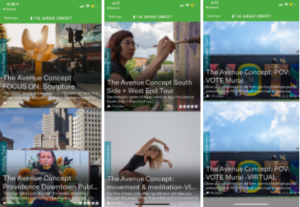 Our Avenue Concept Art Tours mobile app is the best way to experience public art! This easy-to-use app is available for free from the Apple app store or Google Play.
We're giving you a whole new public art experience, with self-guided and virtual tours of the #avenuepvd murals and sculptures you know and love. We've put all the information about the artworks in the palm of your hand, including videos, articles, and options for deeper exploration throughout the city.
Our app offers new and different ways to explore our collection of public art:
Guided walking and driving tours: By foot, bike or car, you can follow a route to artworks around the city.
Free roam tours: Pick a spot you'd like to see; visit as many or as few as time permits.
Virtual tours: Check out artworks and supporting information from the comfort of your own home.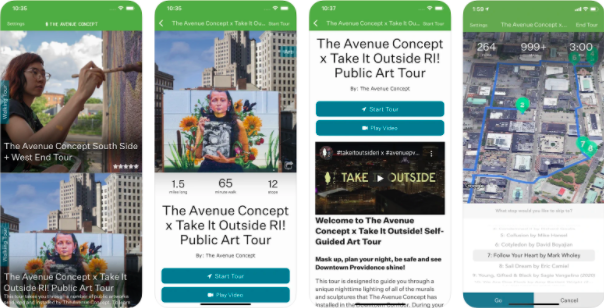 There are even more new options to guide you:
Geographic tours: General tours like Downtown or South Side + West End that explore the artworks based on location.
FOCUS ON: tours: A selection of artworks designed for art lovers who want to explore specific parts of the collection.
POV (point of view) tours: Tours that focus on 1-3 artworks, taking a deeper dive into technique, story, imagery or intention, and offering different ways of looking at public artworks.
Theme tours: Tours that will focus on central themes woven across artworks (coming soon).
New tours will be periodically released, so be sure to check our newsletter, @avenuepvd social media, and the app for new content. You can also give us feedback through the app, share what you love with friends and family, and engage with the art in new ways.
Download the app today and let us know what you think by emailing us at hello@theavenueconcept.org. We welcome any and all feedback.
Don't have a mobile device or memory on your phone at an all-time low? You can experience the tours from your browser too. (Not all features available in browser version.)