Ecstatic Ekphrastic is a new way to see public art through writers' eyes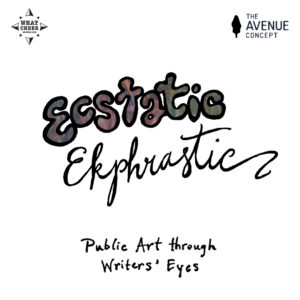 We love to see people's reactions to our works of public art. And we're even more excited to read the reactions of local writers as they contemplate and respond to four key works of art around Providence.
We've teamed up with What Cheer Writers Club to launch Ecstatic Ekphrastic, a monthlong collaboration to see public art through writers' eyes. They've created writing prompts for Condemned by Richard Goulis, Misty Blue by Andrew Hem, Night Flight by Lauren YS and The revolution starts in the earth with the self by Jess X. Snow and invited their members to respond with a story, poem, essay or communal text. Writers have until July 31 to submit their work and there will be prizes for participating, as well as the chance to read at a virtual public showcase on August 13.
The writing challenge is open to What Cheer Writers Club Members. Interested writers can join the Club for just $5-10/month and receive links to the artwork, prompts and prizes in their Ecstatic Ekphrastic Writing Prompts Folder, accessible to all members. Find all the details about the writing challenge here.
We can't wait to read the responses!