From Adventure to Journey: Meet the Artist Who Will Paint the New Mural at the Arnold Building
Garden of Journey is a nationally-renowned muralist based in North Carolina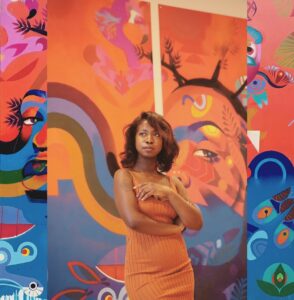 Back in June we announced that later this summer, the iconic "Adventure Time" mural by Natalia Rak on the rear of the historic Arnold Building downtown would be decommissioned and replaced. At the time, we did not announce the artist who would be creating the new mural because we wanted to give people time to say goodbye "Adventure Time" before thinking about what might take its place.
Now the time has come to announce the artist who will create a monumental new work at the Arnold Building: Garden of Journey (real name Georgie Nakima), a nationally-renowned muralist based in North Carolina.
Replacing a mural that was so beloved by our community is not a decision we made lightly. We knew that whatever artist was going to create the next work in such a landmark location would have to be world class. One quick scan of Garden of Journey's Instagram and you'll see that this wall is in good hands.
Garden of Journey brings considerable experience with large-scale murals to Providence. She collaborated with Xbox and video game publisher 2K during the 2019 NBA All-Star Weekend in Charlotte to turn the basketball court at the McCrorey YMCA into a colorful work of art (pictured at top). She's painted works at a community garden in Winston-Salem (pictured, right) and a shopping center in Charlotte, and created a mural intended to "reclaim space" in a neglected lot on Charlotte's West Side. Her work is distinctive in its striking use of vivid color and intricate geometric patterns, often incorporating highly stylized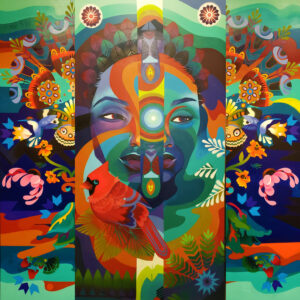 portraits of women of color.
The artist has been featured in Elle magazine as one of "The Female Muralists Behind Black Lives Matter's Most Visceral Imagery," and in Ford's "Born to Roll" ad campaign, which celebrates creative women of color. 
Her design for the new mural will explore a theme of creative energy versus destructive energy, featuring two imaginary figures who serve as yin and yang. It is based in Afrofuturism, a cultural aesthetic and philosophy that explores the Black experience and African diaspora through science-fiction and fantasy.
The new project will also be significant because it represents a considerable increase in size over the current mural. Though it remains one of the largest murals in Providence, measuring roughly 40 feet by 50 feet, "Adventure Time" still covers less than half of the rear exterior wall of the Arnold Building. The new mural will cover almost the entire expanse, measuring approximately 35 feet by 110 feet.
The entire process of decommissioning and replacing the mural will likely take more than a month. Beginning on Monday, August 16, the entire wall will be painted over and repaired to create a blank canvas for Garden of Journey. The artist will begin painting the new mural in early September and could continue for up to 14 days.