One of "The 100 Leading Figures in Urban Art" is coming to Providence to stake out new territory for our mural program. It's a high profile wall and Gaia has some big ideas.
We've had our eyes on the east-facing wall at 32 Custom House Street (on the side of Knead Donuts) for a few years now. It's a huge surface looking out onto the heart of the city, making it a perfect canvas for The Avenue Concept mural program. We've had our eyes on the work of Baltimore-based muralist Gaia for almost as long. He's a big name in the world of street art and bringing him to Providence is a big deal.
Gaia's resume is as impressive as his large, colorful murals: In 2010, he was selected as one of "The 100 Leading Figures in Urban Art" for the book Beyond the Street. Forbes magazine highlighted him in 2015 as one of their "30 Under 30 in Art and Style." He's a 2016 Fullbright-Hays Scholar who was sent to study and paint in New Delhi, India on behalf of the US State Department. He has traveled all over the world, producing works on all six habitable continents, and his work has been commissioned in cities including Buenos Aires, Seoul, London and Amsterdam..
But it's all about the art, right? Gaia's work is bold, striking, thought-provoking and, of course, beautiful. His large-scale murals often draw inspiration from the communities in which they're created, depicting faces of noteworthy historical figures or local leaders partially obscured by flowers and other plant life native to the region.
Gaia chooses to paint under the name of the Greek earth goddess partly because he identifies with the "Gaia hypothesis" formulated by scientist James Lovelock, which theorizes that Earth is an organism infected with people. "It's almost as if we are like a big cold," Gaia says. "The humans are the disease."
His Providence mural is inspired by the history of the  Custom House Street location, as well as the indigenous peoples of Rhode Island. The wall is close to Weybosset Street, which is named for an indigenous footpath, and a trading location that later became one of the first custom houses in America. We partnered with the Tomaquag Museum in Exeter to develop a concept and research the history; this led to a connection with artist Lynsea Montanari (pictured right with Gaia), a member of the Narragansett tribe and an educator at the museum.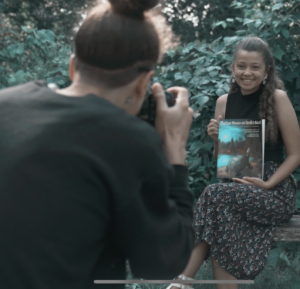 She is collaborating with Gaia on the concept and composition of the mural and is featured as a subject in it, depicted holding a picture of Princess Red Wing, a Narragansett elder who founded the Tomaquag Museum 60 years ago.
This new location expands the Downtown footprint of our 2-D Public Art program, which has made local landmarks of the twin murals by Polish street artists BEZTand Natalia Rak in the parking lot at Mathewson and Washington Streets, as well as last year's addition by Los Angeles artist Andrew Hem at Orange Street. The wall, facing out onto Memorial Boulevard and the Providence River Greenway, represents a new level of visibility and prominence for the program.