"Salt Water" represents the creative vision of artist Garden of Journey, but also the collective effort of many partners and supporters.
On Saturday, September 18, partners, friends and supporters of The Avenue concept were joined by Providence Mayor Jorge Elorza, Providence City Councilor for Ward 1 John Goncalves and representatives from the Providence Department of Art, Culture + Tourism at an official dedication for "Salt Water," the new work at the historic George C. Arnold building by 2021 Mural Resident Artist Garden of Journey.
The mural is a joyful contribution to the body of public art in Providence and it will enhance our city's national reputation as a place to see exciting contemporary public art. It takes many hands to make a project like this possible; artists and staff, officials and city departments, creatives and tradespeople, businesses, residents, and supporters.
Mayor Elorza echoed this in his remarks. "It's exciting to see this come together, but it's just as exciting to see the community come together to support the artists," he noted.
"Salt Water" truly represents the contributions of a community, without which it could not have happened.
There are many moving parts behind each installation – from building contracts and permits, to artist selection and fundraising – that help the work come alive and engage the public in experiencing it. In fact, before a drop of paint even touched the wall, there had already been years of effort behind the scenes to bring "Salt Water" to fruition.
This starts with David Stem and Lori Quinn, the partners in 100 Washington St. LLC who own the Arnold Building. Their collaboration with The Avenue Concept stretches back to 2015, when Natalia Rak's "Adventure Time" was installed on their rear wall. This space where conversation, experimentation, trust, and process come together represents the early vision for The Avenue Concept – and it demonstrates what's possible when partners work together to bring art to life.
When the time came to decommission and replace "Adventure Time," not only were David an Lori on board, but they were willing to go even bigger: the new mural is nearly double the size of the old one, covering the entire expanse of the rear wall. They brought not just vision, sponsorship and, but technical assistance to the project: they committed to the masonry and pointing of the wall that provided an excellent canvas for Garden of Journey's work.
Even the process of finding the artist to take on this wall was a community effort. Garden of Journey was recommended to us by Gaia, the muralist who painted another of our major murals, "Still Here," from 2018.
A huge wall with such a high profile artist is no small undertaking; it's big, complicated and expensive. Through the generosity of supporters like the Isenberg family we are able to take on projects of such scope. Their financial support of this project gave it the lift that it needed to become a reality.
As with so many of our mural projects, Harry Adler and his team at Adler's Design Center & Hardware played a quiet, but invaluable role, lending both their products and their expertise with paint and color to help Garden of Journey execute her vividly colored vision.
Beyond materials, funding and logistics, there are countless forms of support, assistance, and partnership that the public will never see, but ultimately help these projects succeed. There was the Hilton Providence, which housed the artist while she was in town; Down City Parking, which provided the ground space on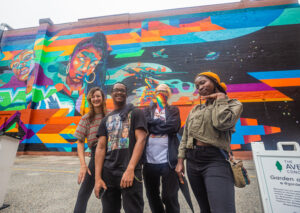 which to operate during the painting of this mural; and the Downtown Neighborhood Association, which has helped the businesses and residents of Downtown understand and appreciate the value of this art.
There were also the contributions of Small Frye Photography and Ian Travis Barnard Photography & Film, who helped capture the process and Garden of Journey's vision for the project.
Finally, there were the artist assistants. Garden of Journey brings so much talent, creativity, and vision to this project. But no one person is capable of completing a 35 x 110 foot mural without an extra set of hands (or three). We hired local artists (pictured above L-R) Joanna Vespia, Kendel Joseph, and Alice Firefly, all of whom have worked with The Avenue Concept in various capacities, and brought their talents and skills to help execute Garden of Journey's plan.
"Salt Water" represents the creative vision of one artist, but it truly required the collective effort of a community to make this public art happen.