The nationally-renowned artist and RISD alum will paint at Providence Community Acupuncture from July 18-25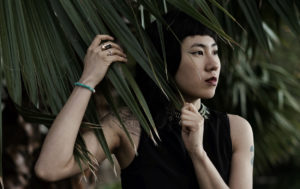 Jess X. Snow is a queer, migrant, Asian-Canadian artist, filmmaker and poet, as well as a 2013 alumnus of the Rhode Island School of Design. Their murals and political graphics have appeared on buildings across the country and in the Los Angeles Times, PBS Newshour,  the permanent collection of the Ford Foundation and the Library of Congress. Snow says that Providence is where they found their voice as an artist and began to write poetry about their immigrant experience.
It is also where Snow first connected with Gavriel Cutipa-Zorn, a doctoral candidate in American studies at Yale and a 2012 graduate of Brown University. His years in Providence also proved to be crucial to his development. It was here that he began his research about transnational solidarity and started organizing and raising awareness about these issues as a part of Brown Divest, which lead to his dissertation. 
Now they will both return to the city that helped them find themselves to collaborate on a new mural at Providence Community Acupuncture. The building stands on Westminster Street, the dividing line between the city's West End and Federal Hill neighborhoods. The "border" location is fitting, given the subject matter.
"The Transnational Solidarity" mural is inspired by the featured activists' work to end the oppression of their people at the U.S./Mexico and Israel/Palestine borders. The mural features the profiles of Providence-based, Queer Guatemalan organizer Vanessa Flores-Maldonado and a Palestinian organizer. The design will also incorporate plant and animal life as symbols of the ways that solidarity can cross borders and break through walls.
While the design is Snow's creation, it is inspired by Cutipa-Zorn. His research and dissertation will provide the basis for the symbolism and mythology behind the visuals. 
"This mural is an invitation for Providence community members to think about their role in transnational solidarity," the two collaborators say. "It is also a love letter to the city and the fertile soil where the seeds of our work were first planted."
Read on to learn more about this profound new addition to our mural collection, in the creators' own words.
Despite the attempts that artificial walls enact to scar the Earth, the planet can heal and suture itself—as can the human body.
This project uses underground mycelial networks that enable trees to communicate instantaneously with one another in a non-hierarchical manner as a metaphor for transnational solidarity that lives and breathes beneath the earth. Underneath the border walls which scar the earth, underground can contain galaxies of life; for we know more about deep space than we do about some of the deepest parts of the earth. In the time it takes for two hands to touch, mycelium networks can send a message to all the trees in a forest at the first sign of danger. While hundreds of species of hummingbirds soar back and forth above borders, perhaps the oldest border crossers are the tectonic plates. At this moment, they are inching their way beneath the walls, forming mountains and making room for new fertile soil.

This mural gestures to the universes of possibility that lie underground. The Carob Tree pushes through the dragon-spine walls. The Carob Tree originally was a marker of property ownership before legal documents were introduced in historic Palestine. Neighbors would negotiate farming boundaries through dialogue and communication, rather than dictation and documents. The cactus from Mexico was brought to Palestine, where it was also used as a property marker. The root system in each plant makes a home in the brain, reflecting the neurological connections that allow our bodies to move, make decisions and animate us. As a challenge to the technological Promethean creation of life, plant systems offer a challenge to technological capitalism's purported solutions to environmental catastrophe. The neurological root systems of transnational solidarity refer to Toni Cade Bambara's essay "On the Issue of Roles," where she argues that the revolution starts in the self, with the self. The borders outside of the mountains represent various attempts to enclose the land, our bodies, and our minds. Yet, within the body and architecture of the earth lies innumerable possibilities of human and plant connection that offer us a vision of another world.
– Gavriel Cutipa-Zorn and Jess X. Snow