Watch a new site specific sculpture happen live on site, May 22.
UPDATED 5/20: The installation of the sculpture has been moved from Friday/Saturday to Saturday only. Watch public art happen live at the corner of Empire and Fountain Streets on Saturday, May 22 from 10am-5pm!
Brooklyn based sculptor Matthias Neumann will come to Providence to create a site specific artwork on one of our prominent Downtown sculpture sites from May 21-22. Look for it on the corner of Fountain and Empire streets – and be sure to pay one last visit to David Boyajian's "Cotyledon," which currently stands there, before it's rotated out to make way for Neumann.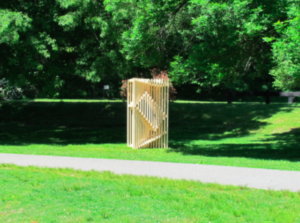 This sculpture is the latest iteration of a series of public interventions under the title "Basics," exploring an abstract notion of form, space and materiality in a public sculpture. "Basics" wants to be experienced both as a sculptural gesture in dialogue with its environment and as a spatial installation in the public realm. Conceived as part of a larger museum installation at the National Museum of Contemporary Art in Romania, the series has since had a substantial number of iterations throughout the US. At last count, he's up to "Basics #46." While each object relates to its site, the work is to be understood as a series of explorations relating to the specifics of temporary public art. Each object shares a constructive language derived from 2×4 lumber. While the form and design of his Providence installation is yet to be revealed, the example pictured here – "Basics #34" at Elm Park in Worcester, MA (2019) – should give you some idea what to expect.
Works in this series are for the most part unique to their site with the installation taking place on site in a tried and tested method over the course of two days. Neumann has found in the past that the on-site installation is a valuable public engagement process in and of itself. 
A saw and some other small power  tools are all the artist requires to construct his one of a kind, site specific sculpture in place. The public is welcome to observe the artist at work and ask questions as he creates over the course of two days. It is a rare opportunity to witness a sculptor in the process of making and the Avenue Concept is thrilled to present Matthias Neumann to Providence.