"The Avenue Concept makes people excited about Providence and the state. The vivid artwork is a draw for both tourism and locals who take pride in the city."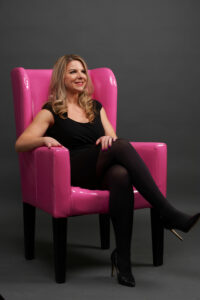 How did you first get connected to The Avenue Concept?
I started out as an associate editor at Rhode Island Monthly magazine right around the time when The Avenue Concept [TAC] was founded more than eleven years ago. I remember writer John Taraborelli pitching a profile on Yarrow Thorne and the organization for the magazine. It was the first time I had heard of Yarrow and really began to understand what the public arts organization was all about, and I was intrigued. At that point, I began tracking the public art at various downtown festivals, and every time a new mural or sculpture went up in the city, I would admire it and take photographs for social media. I also loved covering the murals and sculptures in the magazine and on our website. 
What prompted you to get involved directly?
I volunteered myself as an advocate for public art as I noticed the impact it had on Providence, bringing vibrancy and energy into every corner of the otherwise drab cityscape while celebrating diverse artists. Eventually, [former TAC board president] Mike Ritz reached out to me with the suggestion that I join the board back in 2020. I had never served on a board before but I realized this would be the perfect organization for me to promote that coincides with my own personality and values. 
What value do you think TAC's work brings to the community?
The Avenue Concept makes people excited about Providence and the state. The vivid artwork is a draw for both tourism and locals who take pride in the city. The work is important because it highlights diverse artists with messages to share. The murals and sculptures spark conversations and bring people together, especially in tumultuous times, like at the beginning of the pandemic and when racial tension arose in the wake of the deaths of George Floyd and Breonna Taylor. I loved seeing the city and its residents come together to share messages of sorrow, remembrance and hope through artwork. And when people had to social distance and events were canceled, I was spellbound by The Avenue's efforts to create an illuminated art gallery that people could safely explore at night. 
Why is this important?
All of these projects and activities take a lot of work, but it's easy to see the positive impact they have on the community, which fosters a sense of healing and unity. The Avenue Concept also gets political (in a good way) by creating artwork that inspires people to vote and have their voice heard. The public art captures the attention of a necessary demographic – young people as well as those from multicultural backgrounds – by communicating that what they say, think and feel is important, and that they are paramount to our future. 
What are your goals now that you're part of the organization's leadership?
My goals as board president involve being the best supporter and promoter I can be to help sustain this amazing public art organization. By spreading positive vibes about The Avenue Concept, I believe I can help build connections and invigorate funding to help expand its reach. We have seen TAC flourish in Providence and extend out into Warren in the East Bay, but can you imagine if every town and city in the state could benefit from public art facilitated by The Avenue Concept? The artwork inspires our youth and helps people take pride in the places where they live and grow. I will work to strengthen the organization by staying involved in the community and championing the work to everyone within my network and beyond. 
What opportunities do you see for TAC on the near horizon?
I believe TAC can make a lasting impact on more towns and cities. While it is already well established in Providence, Pawtucket and Warren, I can see the work of artists spreading to Newport and Narragansett and other places that are a draw for tourism. TAC has always been involved in urban schools, inspiring youth through public art, but I believe that impact can expand even further to more schools outside of the city.
What do you think of the team TAC has in place? How would you like to see it grow?
I think TAC has a great team in place and I would like to see the organization turn the spotlight on more members of its staff. Deputy Director Jenn Harris has done an outstanding job growing the groundbreaking organization and expanding its reach and I'd love for more people to understand what a big role she plays at The Avenue Concept. There are also several new staff members that are doing wonderful work, including Project Coordinator Cristina Reyes and Community Participation Manager Jan Carlos Terrero. TAC is also hiring two new positions, so I'm hoping this will enable the public arts organization to have the resources it needs to become recognized and celebrated on a more national level. We have a wonderfully diverse board and I would love to add a few more voices that can help bring it to the next level. 
Jamie Coelho is editor in chief at Rhode Island Monthly magazine where she has written and edited food and restaurant content and stories on other lifestyle topics for the past twelve years. She is a 2004 graduate of Syracuse University's S.I. Newhouse School of Communications, where she majored in Magazine journalism. She has also worked for or been published in Men's Health, Boston Magazine, AAA, the Boston Globe Magazine and Yankee magazine, as well as on Boston.com and Thrillist. Coelho has been involved with various Rhode Island organizations, including as a board member of The Avenue Concept, committee member for the Providence Preservation Society and as a Bravo member of the Rhode Island Philharmonic.