We've got some fresh new murals planned for this summer, starting with cats and dogs in Cumberland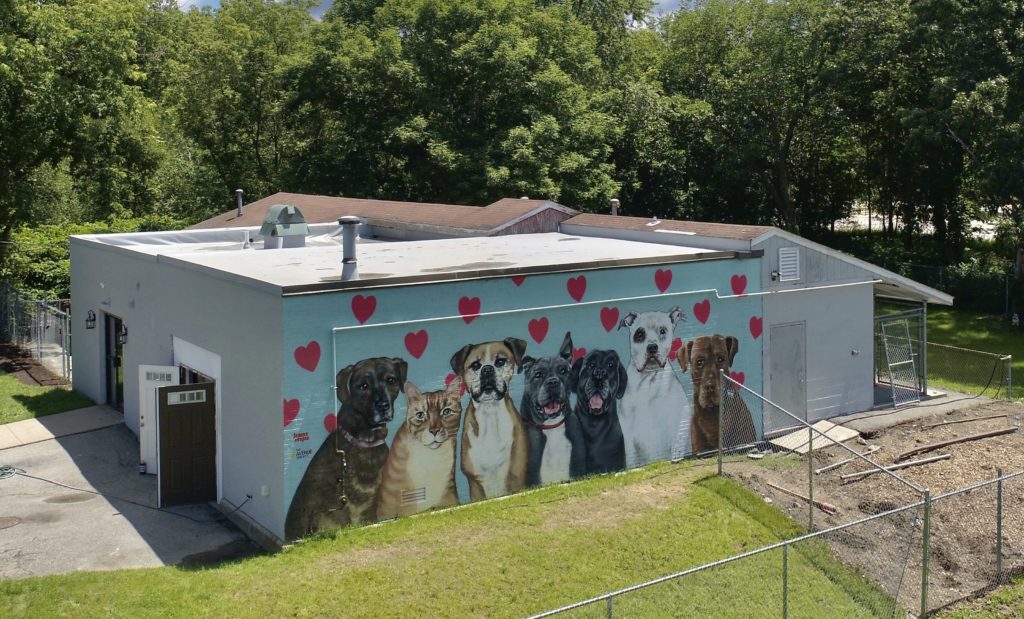 Summer is here and we're ready to start putting up some new murals!
Our 2020 Mural Program began on June 24 with our first public art installation in Cumberland, this purrfect wall from artist Joanna Vespia at the New England Humane Society. Joanna is known in part for her pet portraits (including some fictional felines at a local watering hole), so when the Human Society agreed to collaborate on this project, we knew she was the right person for the job.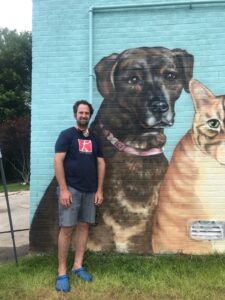 In addition to featuring some of the shelter's pet friends in the mural, Joanna included a little surprise for our founder/executive director Yarrow Thorne: the dog all the way to the left is Yarrow's beloved pet, Annie (RIP), who he rescued from a shelter.
The project was financed by the shelter and the paint is sponsored by Adler's Design Center & Hardware in Providence.
And there are plenty more murals where that came from. Our schedule throughout the summer and into the fall is jam-packed with both local and national talent. Here are some of the highlights:
The program continues with graffiti artists Osteo and Geser, both of whom have previously worked at The Avenue Paint Bar, our paint shop and legal graffiti program. Location and dates are to be determined.
Florida-based street artist Hiero, known for his national "Spray Their Name" project, in which he paints portraits of victims of police violence in cities around the country, comes to Providence in July to paint a new mural at 1 Ship Street. The mural is part of our ongoing public art partnership with Wexford Science + Technology, developer of the Point225 innovation center; it will replace an existing mural by local graffiti artist ABOVE.
Also in July, Massachusetts-based artist Jimboe, who collaborated with us on a previous Ship Street mural, will paint the front facade of our South Providence headquarters.
Later in the summer, we'll mark the fifth installment of our annual rotating mural residency at the historic facade of the Providence National Bank building on Weybosset Street in downtown Providence. This year, for the first time, the residency will feature two female artists, painting both the front and back of the facade. Boston-based artist Sagie Vangelina will paint the rear of the structure, while Rhode Island science illustrator Amy Bartlett Wright will rework the front. Bartlett Wright's project will be the first-ever crossover between our mural and sculpture programs, featuring painted cutouts affixed to the structure's panels in addition to the new painting. The annual residency, which launched in 2016, is done in partnership with Paolino Properties; work is expected to begin in late August/early September.
"This year's line-up of mural projects represents an expansion of what we've been doing with this program since 2015: nurturing local talent, bringing national and international artists to Rhode Island, and extending the footprint of our work throughout Providence and beyond," says our Mural Program Manager Nick Platzer. "The works will reflect themes and ideas that are relevant to our community and the artists will showcase a range of styles from street art to fine art and everything in between. It's going to be an exciting summer."
Please note: This schedule is tentative; all dates and locations are subject to change.