Celebrating public art in Providence's Kennedy Plaza with Peruko Ccopacatty, The Avenue Concept, Mayor Elorza, and RIPTA.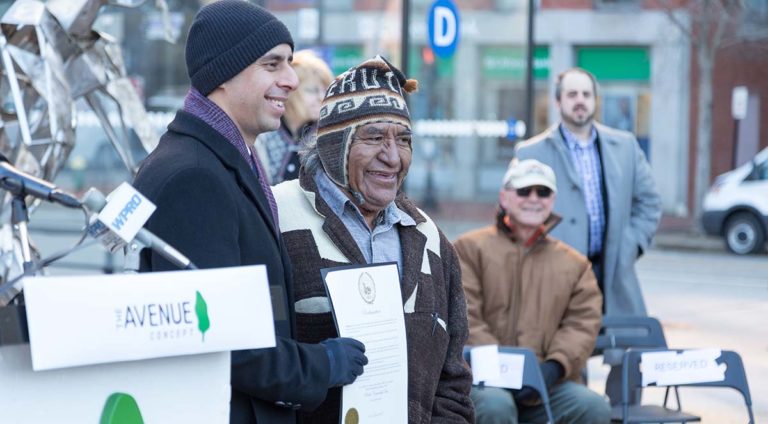 The first Ccopacatty Day was July 24, 1994. That was when Peruvian-born, Rhode Island-based sculptor and muralist Peruko Ccopacatty received the key to the City of Providence for his contributions to the local arts community. More than 20 years and four mayors later, the City once again honored Ccopacatty as his long-time dream of installing his work in Kennedy Plaza became a reality.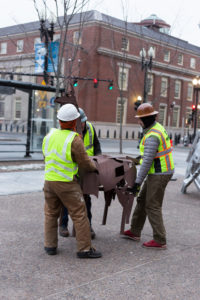 On Sunday, February 4, we installed four of Ccopacatty's sculptures – a 14′ angel, a 7′ man, and two 6′ llamas, all sculpted from reclaimed or recycled metals – at the eastern edge of the plaza, next to Exchange Street. The next day, we gathered with Ccopacatty and a crowd of more than 50 people to cut the ribbon on the project. Mayor Jorge Elorza declared February 5, 2018, the second official Ccopacatty Day in the City of Providence.
Ccopacatty was joined by his son Aymar, along with his grandchildren. His friend and fan, noted local designer Morris Nathanson, spoke on the significance of his work. Mayor Jorge Elorza, accompanied by the staff of the Department of Art, Culture + Tourism, praised the project and spoke of Kennedy Plaza as "a socially-vibrant civic heart of our city." Amy Pettine, interim CEO of RIPTA, welcomed "the art as an enhancement of a busy public space used by thousands of public transit passengers everyday."
The Eastern Medicine Singers (pictured below), an Algonquin drum group, offered a traditional blessing in song – a special request from Ccopacatty, who comes from Peru's indigenous Aymara people. Many Downtown business and civic leaders, as well as many from the arts community (including previous Avenue Concept collaborators Umberto Crenca and Brower Hatcher) also braved a blustery cold winter day to celebrate a vision for public art more than 20 years in the making.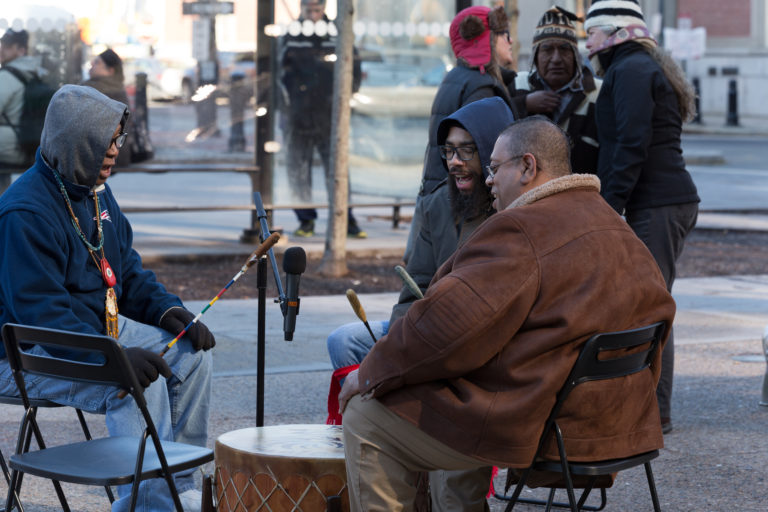 Peruko Ccopacatty and The Avenue Concept
This is a project we've been looking forward to for a long time – though not as long as Ccopacatty, who first received approval to install his sculptures in Kennedy Plaza in 1995. Of course, that project never came to be, and that missed opportunity was one of the reasons why we became so invested in helping him achieve it. This project represents both the culmination of a major investment we've made in Kennedy Plaza as a showcase for public art and the first look at a longer-term vision we have for a robust public art program in Providence.
Peruko Ccopacatty is an artist whose work exemplifies that vision. His artist bio says that "place and people are the point of departure in his themes of family, work, struggle and triumph." These are themes to which every one of the approximately 40,000 people who circulate through Kennedy Plaza every day can relate. This public square belongs to all of us, and Peruko Ccopacatty creates work that speaks to all of our stories. That's why we were so excited to celebrate Ccopacatty Day.
Scenes from Ccopacatty Day