When violence struck Downtown Providence, local artist picked up paintbrushes for the cause
Violence broke out in Downtown Providence in the early morning hours of June 2. The eruption of chaos during a period of peaceful protests against police violence, and the vandalism of several beloved neighborhood businesses, sent a ripple of shock through the community. But this is Providence, so it wasn't long before that shock gave way to artistic expression and neighbors rallying together.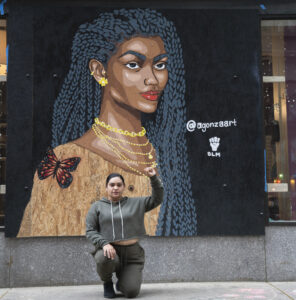 As businesses boarded up their broken windows, artists saw an opportunity to spread messages of hope, solidarity and determination. We were able to connect our friends at Queen of Hearts/Modern Love with one of our 2019 resident mural artists, AGonza, and facilitate the creation of a pop-up mural. Within a couple of days, AGonza created an incredible portrait of Miss Rhode Island, Jonét Nichelle, who the artist describes as "the definition of black excellence." (See below for video and hear it in AGonza's own words.) The mural is on display through July 18.
Other artists were similarly inspired and with the support of AS220, murals began popping up all over Downtown. As220 Community Membership Manager (and artist) Nafis White subsequently organized an event commemorating Breonna Taylor, a victim of police violence whose 27th birthday would have fallen on June 5, and a display of many of the plywood boards on which the murals were painted. (The boards were removed from the storefronts to make way for repairs to the businesses.)
After seeing the mural at Queen of Hearts, Mott and Chace, a Downtown real estate agency that was also damaged in the violence, approached us about creating another mural. We connected them with artists Arthur Cayo and Greg Pennisten, who collaborated on another pop-up entitled "Love &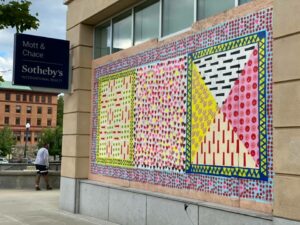 Unity." The design was inspired by the famed Quilts of Gee's Bend, drawing on the long tradition of quilts as a form of storytelling and a symbol of community. The mural will be on display at Mott and Chace's office, 100 Exchange St., Providence, through July 14.
This incredible outpouring of art was a testament to the sense of community, as well as the unbelievable talent, here in Providence. It was truly an example of the power of public art.
AGonza: Black Lives Matter