Works from international artists and American artists with worldwide renown affirm our city's status as a destination for public art.
Public art enhances our city in many ways. It adds beauty, creates a sense of a place, tells stories of our communities, draws visitors and much more. One of the under-appreciated ways in which public art makes an impact is that it connects Providence to a worldwide network of cities that are renowned as destinations for art lovers – many even host works by some of the same artists.
Bringing international artists, as well as American artists with worldwide profiles, to Providence has been a part of The Avenue Concept's mission almost from the very beginning. Our ability to draw some of the most highly regarded artists from around the globe to create new works here helps establish Providence among that worldwide network of public art destinations. Miami, Florida. Los Angeles, California. Vienna, Austria. Oslo, Norway. Barcelona, Spain. At first glance, you may not think Providence belongs in the same league as these international destinations, but our little city boasts works by some of the same big-name artists that helped those cities establish their reputations.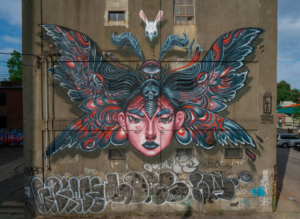 Take, for example, Nychos, whose mural "Battlecat" (pictured above) graces the Jones Moving & Storage building on Providence's South Side. When it was painted in 2016, it was his largest mural in the Americas. He is a major figure in international street art, with more than 680,000 followers on Instagram and murals in Los Angeles, Miami, Vienna, and Cancun, Mexico, among other cities. He arrived here with Lauren YS aka Squidlicker in tow as his assistant. They are a Los Angeles-based artist whose works appears in far-flung locales like Hawaii, Guam, Macau, Australia, and Nepal. This presented an opportunity to have them paint "Night Flight" (pictured left) on the adjacent side of the building concurrently with "Battle Cat." Having two such significant artists working side by side in Providence was an important step for our city's public art scene.
The same could be said the previous year, when BEZT and Natalia Rak, two Polish artists with worldwide reps, came to town to paint their now-iconic murals "She Never Came" (pictured right) and "Adventure Time" across from each other in Downtown. "Adventure Time" was decommissioned last year to make way for a new mural from North Carolina artist Garden of Journey, a rising star in the public art world whose "Salt Water" is her largest work yet, but "She Never Came" still looks out onto Mathewson Street. These were two of the murals that helped us establish The Avenue Concept's reputation as an organization that can work with serious artists on large-scale projects – but they weren't even the only international works of public art we executed here in 2015. Mik Shida, who has painted all over his home country of Australia, as well as in Germany, Tuscany, and Cambodia, and highly-regarded Hawaiian artist DAK.1NE, both came to Providence that year to help us create a cultural corridor at Classical and Central High Schools, painting the works "Untitled" and "Anchored," respectively.
In addition to those international artists, several of the American artists who have created murals in Providence enjoy worldwide acclaim. Those include Gaia ("Still Here"), who was  selected as one of "The 100 Leading Figures in Urban Art" for the book Beyond the Street, and Andrew Hem ("Misty Blue"), who recently completed a second collaboration with The Avenue Concept, "Our Home," in West Palm Beach, Florida; and Brian Kenny ("Love is a Many-Gendered Thing"), a New York-based queer artist whose commercial and fashion work has included projects in Italy, France, Belgium and Japan. Jess X. Snow, whose mural "The revolution starts in the earth with the self" can be seen on the West End, bridges the gap between international and local, an Asian-Canadian artist who lived in Providence for several years while studying at RISD.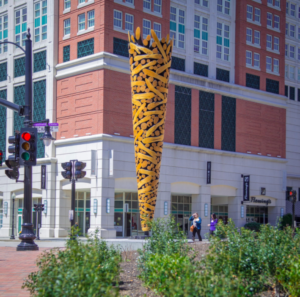 Not to be outdone, our sculpture program has also boasted its fair share of international works, albeit on a more temporary basis. Over the years we have displayed pieces from South Korea's JaeHyo Lee ("Lotus," 2015, pictured left), South Africa's Lionel Smit ("Colossal Fragment," 2016), Bulgaria's Rado Kirov ("Free Fall III," 2018) and Rhode Island-based Peruvian artist Peruko Ccopacatty ("Wild Horses," 2018).
This summer we will welcome a new addition to Providence's collection of international public art, as one of the biggest names in street art worldwide creates a new work at the new Emblem 125 mixed-used development in the former 195 land. Want to know who it is? Click here to find out.