A fun and safe way to spend some quality time while maintaining social distancing.
UPDATE 11/24: Check out this new way to explore public art! We have launched a new interactive self-guided tour with enhanced features through the PocketSights app. The tour works in both the mobile app and your web browser, but is optimized for in-app experience. Start your tour here.
UPDATE 3/20: Looking to do a deeper dive into our walking tours? Prefer to explore public art virtually through our website? Check out "Adventures in Public Art: Explorer Edition." 
Dear Friends,
We hope you're staying safe, healthy and happy during this unprecedented disruption to our lives. We know that everyone's life has been upended – and there are so many things we cannot or should not do right now – but we want to focus on helping you find positive, meaningful ways to spend this time.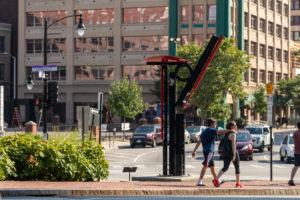 Fresh air and a walk or ride to see some public art remain fantastic options to keep you and your family active and engaged while still maintaining safe social distances. Fortunately, The Avenue Concept has provided so many wonderful works of public art throughout the city for you to experience and discover – you could easily spend a whole day doing so! Now is a great time to enjoy the beauty our city has to offer while school is closed and we are all minimizing contact with each other.  
To help you get started, we are excited to share these self-guided walking/riding/driving tours of many of The Avenue Concept's installations of sculpture (purple icons) and murals (pink icons) around Providence.
Downtown Self-Guided Tour: MAP | PROMPTS + QUESTIONS 
South Side + West End Self-Guided Tour: MAP | PROMPTS + QUESTIONS
These maps are comprehensive with dozens  of murals and sculptures to visit throughout Downtown, the South Side and the West End. You can do as much or as little as you like, mix it up, do it backwards, stop in the middle and save some for later, only go to the sculptures or only to the murals – whatever works for you. These maps are just the simplest routes to see the greatest number of artworks in one day.

(In case Google Maps is glitchy due to increased use, look for the icon pictured on the right to find artworks, or use the addresses found in the "Prompts + Questions" documents.)
At each stop on the map you will find a plaque that has the name of the artwork, the name of the artist, a little bit about the artwork and a QR code (the black and white square with dots in it). If you have a smartphone device, you can open the camera and place it over the QR code (like you are taking a picture) and it will send you to the place on our website where you can learn more about the artist, watch videos that we have made about their work and the like. This is a great way to learn more while you are standing at the artwork or as a chance to dig deeper when you return home.
We are also providing some questions and prompts for kids (and adults!) to engage with the murals and sculptures you will see. They are designed to get people to look deeper, to pay closer attention to the elements present in the work, to think about stories and colors and shapes and the reasons why public art is so important.
We believe that public art makes an impact in our community and we hope that after experiencing one of these tours, you do too.
We also encourage you to take photos and share them on social media. You can tag us at @avenuepvd on Instagram and Twitter or @TheAvenueConcept on Facebook. We also encourage you to use the hash tags #avenuepvd and #publicart. And please feel free to let us know what you think (feedback and ideas welcome) at hello@theavenueconcept.org
Stay active, engaged and safe,
The Avenue Concept Team
Downtown Self-Guided Tour Prompts + Questions