A Providence boy goes far from home, returns, poses for a mural, and lives happily ever after making public art happen.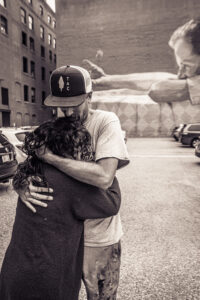 "She Never Came," the 2015 mural by Polish artist BEZT located at 134 Mathewson Street, has become one of Providence's most recognizable works of public art. It's a story of unrequited love distilled into a single moment: a forlorn man leans forward over a table, gently tossing a ring the air. Though we don't see anything to indicate the intended recipient of the ring, the mural's title tells us all we need to know.
This calm, quiet moment is a stark juxtaposition to the busy streetscape around it, inviting passersby to pause and reflect on its beauty. Its photorealistic quality evokes BEZT's admiration for Norman Rockwell, while the surrealism of the rat pays homage to the street art tradition of Basquiat. 

Although "She Never Came" is a sad love story, viewers seem to respond and connect more to the love than the sadness: the mural has been used on multiple occasions as a backdrop for wedding photos.
Like all great works of art, there are multiple layers of meaning and story behind "She Never Came." Indeed, there is another love story at play in this mural, a story of love for home and public art.
What most people don't realize is that the man in the mural is a real person – or at least a real person stood in for the man in BEZT's mind. Our Mural Program Manager Nick Platzer was the model.
Nick grew up in Rhode Island and spent his years at Classical High School skating and painting in Providence. Following two years of school in NYC, he spent a year in Australia, where he met Billabong designer Claudio Kirac and his partner Amber Bignell. They introduced Nick to the world of international street art and two books, The Art of Rebellion and Street Logos. Nick made his way to Vienna, Austria, a city with a lot of similarities to Providence. There he opened Inoperable Gallery and began connecting with mural artists working in Europe and around the world, helping to facilitate mural projects for them. 
In 2014, Nick's artistic eye was drawn back towards his hometown. Through his mom, he learned about the work The Avenue Concept was doing. (She was giving a talk at New Urban Arts and someone suggested the connection.) Nick saw the opportunity to bring some of this mural magic back to Providence.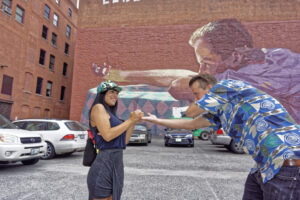 Nick contacted Yarrow and they worked on their first collaboration to bring Dominican-born, Florida-based muralist Evoca1 to PVD. In 2015, the team brought world-renowned artists from Poland, BEZT and Natalia Rak, to create Providence's biggest murals to date. For "She Never Came," BEZT chose his friend and curator Nick as the subject, making Nick's mom extremely happy. A fitting evolution of this story, don't you think?
And for those who wonder if the man in the mural eventually got his happily ever after, don't worry: Nick is happily engaged to a wonderful woman, his fiancee Jackie. Despite what the mural says, she eventually came.
Do you love these stories? Want to see more like them in the coming year? Please consider making a gift today to support our 2022 exhibits and programs.