The Avenue Concept and Rhode Island Department of Health partner to create new murals at five harm reduction sites statewide.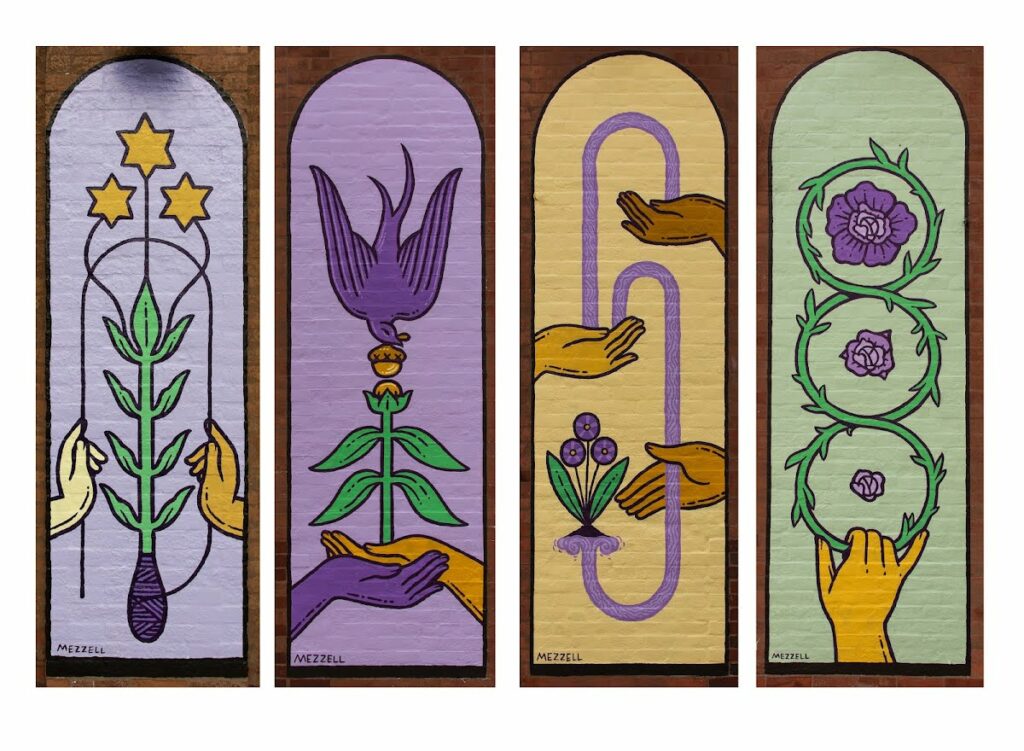 "Hope, Community, Dignity" by Michael Ezzell at Community Care Alliance in Woonsocket
This spring, we were delighted to bring five artists together with organizations as part of a strategic partnership intended to support community well-being through art.
The murals were installed at five harm reduction sites operated by RIDOH partner agencies around the state: Project Weber/RENEW locations in Pawtucket and Providence, Parent Support Network locations in Warwick and Westerly, and the Community Care Alliance site in Woonsocket.
The project supports Rhode Island State Arts and Health Plan goals by exploring the ways public art can inform health and well-being. TAC and RIDOH engaged local artists to create welcoming environments that connect and reflect the communities the project serves.
RIDOH's federal funding from the Overdose Data to Action grant was given to partner agencies that provide harm reduction services in overdose hotspots throughout the state to create public art. The organizations that were selected had existing partnerships with RIDOH's Drug Overdose Prevention Program to provide weekly data-driven outreach and response to the overdose crisis. 
TAC facilitated the project, in collaboration with partners, providing curatorial and operational expertise to deliver high-quality murals. Partner agencies developed themes and goals and identified space for artists to execute their creative vision in response. Artists were identified for each site by TAC based on the themes and goals determined by the partner agencies. 
"People and communities connect through public art. It offers healing and lets those who are served know that we care about them and their caregivers," said Yarrow Thorne, TAC founder and executive director. "I salute our partners at the Rhode Island Department of Health for their vision and leadership in using public art to support public health."
"In 2021, more Rhode Islanders died from fatal overdoses than any other year. These preventable tragedies take an emotional and professional toll on our partners who provide direct services in the community and it intensifies challenging and triggering work," said Interim Director of Health James McDonald, MD, MPH. "RIDOH is grateful and humbled by the work of our community-based organizations and we know that the death toll would be even higher in the absence of their day-to-day dedication to improving lives. Our hope is that the powerful art facilitated by The Avenue Concept in partnership with talented artists and organizations will provide some healing and brightness for both our partners and the people they serve."
Murals, partners and artists:
Supporting Well-Being Through Art Gallery
Murals at Five RI Harm Reduction Sites
Project Weber/RENEW
"Health Safety and Support Live Here"
by Greg Was Here, aka Greg Pennisten
Project Weber/RENEW, 124 Broad St., Pawtucket
"Growth"
by Ryan Richardson
Project Weber/RENEW, 640 Broad St., Providence

Rhode Island's center for harm reduction and recovery services. Through peer-led outreach, Project Weber/RENEW provides harm reduction and recovery support services, builds relationships with the people served, and fights for systemic change. The organization empowers individuals who use drugs and/or engage in sex work and people at risk for and living with HIV & hepatitis C to make healthier and safer choices in their own lives. weberrenew.org
Parent Support Network
"There is Hope in Recovery, Together We Shine"
by Yenny Create
Parent Support Network, Hope Recovery Community Center of Washington County,
55 Beach St., Westerly
"There is Hope in Recovery"
by Joanna Vespia
Parent Support Network, 535 Centerville Rd., Warwick
The centers provide individual peer recovery support in person at the center, by phone, or out in the community to support the steps towards recovery and wellness. Daily in-person mutual aid meetings and support groups are available virtually as well. Ongoing public awareness events to educate the community on harm reduction are a priority, as well as close collaboration and partnership with community partners to link individuals to the treatment, programs, and community resources they are seeking. psnri.org
Community Care Alliance
"Hope, Community, Dignity"
by Michael Ezzell
Community Care Alliance, 245 Main St., Woonsocket
Community Care Alliance empowers people experiencing economic insecurity, mental illness and addiction, housing issues, and trauma-related concerns. CCA subscribes to the maxim that people flourish when they have a healthy mind and body, a place to live, enough food, supportive relationships, and sufficient income—and that when people are secure in these, our communities thrive. Over 500 dedicated employees work together to provide the most accessible and appropriate care to our clients affecting the lives of over 11,000 people in Rhode Island through outcomes-driven, innovative programming and collaborative partnerships. communitycareri.org
Project Teams
Rhode Island Department of Health: Jennifer Koziol – Drug Overdose Prevention Program Administrator,  Cathy Schultz – Overdose Data to Action Project Manager, Rachael Elmaleh – Communications Manager Drug Overdose Prevention and Surveillance Programs
The Avenue Concept: Jenn Harris – Deputy Director, Sara Mintz – Strategic Partnerships, Nick Platzer – Mural Program Manager, Yarrow Thorne – Founder and Executive Director
Community Care Alliance: Colleen Joubert – Director of Communications and Development, Ben Lessing – President and CEO
Project Weber/RENEW: Savaree Hazard-Chaney – Director of Staff Development, Mariana Narvaez – Community Health Program Manager, Colleen Daley Ndoye – Executive Director
Parent Support Network: Linda Marzilli, CPRS, CCHW – Executive Manager, Lisa Conlan Lewis, CPRS – Executive Director