"I don't consider myself to really be a message type. I like for materials and process to speak for itself. I don't go into a project like this thinking I'm going to save the world with it." -Steven Siegel
We've been preparing for Steven Siegel to come to Providence since last summer. The Hudson Valley-based artist is known around the world for his large-scale sited sculptures, many of them made from materials like newspaper, shredded rubber and aluminum cans. Now we're finally ready to get to work on a new installation by Siegel, to be constructed from post-consumer plastic collected by our 3D Residents. He arrives in Providence on September 23 to begin work.
Siegel is nationally and internationally recognized visual artist who has been creating large-scale sculptures since the 1970s. He has created public artworks, private commissions, sited sculptures and installations in nearly a dozen countries across four continents. His sited works and public installations primarily take two forms: layerings and containers. The layerings stack materials like paper and wood in ways that both blend in with and stand apart from their surroundings. The container pieces take on more complex, often geometric forms, encasing pre- and post-consumer industrial materials like plastics, metals and e-waste in larger-than-life boxes and capsules. (Though his more recent works have tended towards enormous wall pieces – almost like mural versions of his sculptures.)
It would be tempting to view Siegel's work as a direct commentary on environmental issues and our throwaway culture, but that's not necessarily the artist's intent. "I'm not doing plastics because I want to save the world," he says. "I'm doing it because I want to create an interesting and vibrant piece of art."
Though Siegel's impulse might be more artistic than altruistic, our 3D Resident Artists Bonnie Combs and Jen Long, who collected the raw materials for the installation in two phases last year and this past spring, are very much interested in the environmental issues. Their mission was to collect at least 22 cubic yards of single-use plastic for Siegel's piece, turning waste that might otherwise wind up in the landfill – or worse, in our oceans – into public art. Their project, dubbed "Operation #recyCLEAN," collected way more than that.
Recycling is what ultimately drives this pieces, although Siegel and our 3D Residents may come at from slightly different angles. "There's something about the notion that everything we make and everything we do eventually goes back into the earth that continues to be of great interest to me," he explains. "We are the smallest moment in time and all the things that become manifest because of us – the houses we live in, the cities we build – it all goes away at some point and is recycled. Recycling in that greater sense is what interests me more than, say, recycling plastics.
Regardless of the motivations – artistic, environmental or otherwise – we're excited to bring an artist of Siegel's stature to Providence for such a unique work of public art. Though perhaps we should say back to Providence: Siegel previously displayed work here as part of the Convergence festival in 1999, and returned in 2013 for a lecture at Rhode Island College.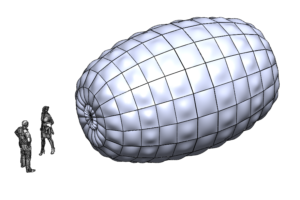 We not ready to reveal the precise location of Siegel's work yet, but we can offer a sneak peek at the basic form and scale of the piece, seen here in this CAD rendering using people for scale. There's still much preparation to be done. In addition to the plastic collected by Bonnie and Jen, which will fill the sculpture and give it color, the residents also worked with local bike shops to collect discarded bike tire inner tubes, which will be stretched into a grid to give the piece shape and structure. Old fishing nets will be used to hold everything in place, making Siegel's work an entirely upcycled piece of art. In addition to Bonnie and Jen, our 3D Program Manager Brian Dowling has been hard at work this summer constructing the basic architecture of the piece.
We'll have more to reveal soon. In the meantime, take a look at some of Siegel's past works.
See some of Steven Siegel's sited works