Seven artists will beautify the town's streetscape with new public art in April
In 2019, we partnered with the Town of Warren to help beautify their streetscape in the form of two painted electrical boxes along Water Street, featuring locally-inspired murals by artists Adam Tracy (pictured above) and William Schaff. The two boxes were intended as pilots for a larger collection of painted boxes. Last year, as part of the Take It Outside initiative financed by Commerce RI, the town received the funding to expand this program to seven more boxes. The Town of Warren, through the Warren Arts & Cultural Commission (WACC), put out an open call for proposals from artists – and the level of interest was overwhelming.
In the end, seven local and regional artists were chosen from 35 submissions from all over the Northeast. The incredible quality of the submissions made the selection process difficult, but WACC Vice Chair Uriah Donnelly; Bob Rulli, Director of Planning & Community Development for the Town of Warren; and representatives of The Avenue Concept worked together to make the selections based on things like the transfer of the flat design to a three-dimensional design, materials, and complexity of the submission.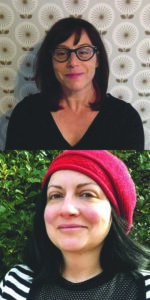 The final seven includes two Warren-based artists, Kristin DiVona (top left) and Holly Emidy (bottom left). The other artists selected are The Lady J, Adam Kelley, Heather Annis, Makerjake, and Connor Robinson. (Read more about the artists here.)
Tentative plans are for the preparation and painting of the boxes, all located in the downtown area, to begin the weekend of April 17-18. Work will continue throughout the next week, which for many is school vacation, and finish the weekend of April 24-25. The town will be working with Discover Warren to promote additional activities and events, all following COVID-19 protocols, during that period.
Boxes to be painted in this latest round include two located adjacent the East Bay Bike Path, near the corner of Campbell Street; the Franklin Street Park-N-Ride; Joyce Street; Miller and Main Streets; Child Street, near the proposed Warren Arts Walkway; and on the East Bay Bike Path between Market and Child Streets. Looking ahead to this summer, the town will sponsor a program for students to paint a "mockup box" to be displayed in front of Town Hall.