We spoke with the artist behind "Young, Gift & Black" about vivid colors and temporary art.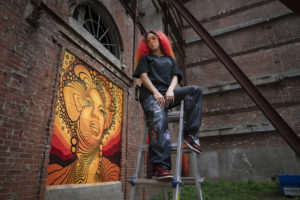 It's hard to believe,  but last year's Weybosset Facade Mural Residency artists, Amy Bartlett Wright and Sagie Vangelina are already looking towards the next installment of this unique public art project, done in partnership with Paolino Properties.  As we prepare to close out the one-year residency of their respective murals, "We Are One Flock" and "Young, Gifted & Black," we caught up with the two artists about their experiences working in such a unique public space and what it means to make way for two new artists to keep this project going. Here is our conversation with Sagie:
What was it like taking on such a unique project, painting this one remaining piece of a historic structure?
This project was smooth, I really appreciated how organized TAC was throughout the installation. I loved the Weybosset facade. The brick and greenery around it was very pleasing to my eye and inspired the exploration in my color palette.
Did the visibility of this project in such a high-traffic location influence how you approached it?
Most of my public art projects are hidden gems. This one in particular being in a corner of downtown, I really wanted to incorporate vivid color so the mural could be seen from a distance or up close but either way you're going to see it.
How has the response been since you completed it last summer?
It's been all love. I really appreciate everyone sharing my work and all the support this past year.
What does it mean to you that this art is temporary, knowing that two new artists will come in and create new works in the same space this summer?
It feels special to share with the previous artists and the ones to come. Its a nice surprise for the city each summer to enjoy a new piece. My Nina Simone design was not originally planned for this project, so I do regret using it for a temporary wall but I plan to shine more light on Nina in the near future.
What's your advice to the next artists who take on this residency?
Trust yourself and your process.