Bonnie and Jen have another whirlwind week, full of dancing for the ocean, advocating for a plastic bag ban and brainstorming on a second life for Steven Siegel's sculpture
Early April was an artful and political start to Earth Month for Bonnie and Jen. We did a number of things before our usual Friday workday that aren't directly a part of the #recyCLEAN project, but which inform us as artists and engage us as activists, and we'd like to share them with you.
Bonnie and Jen started the week early by attending an unusual performance at Brown University in collaboration with UC Irvine and RISD called "Your Ocean, My Ocean" (pictured below).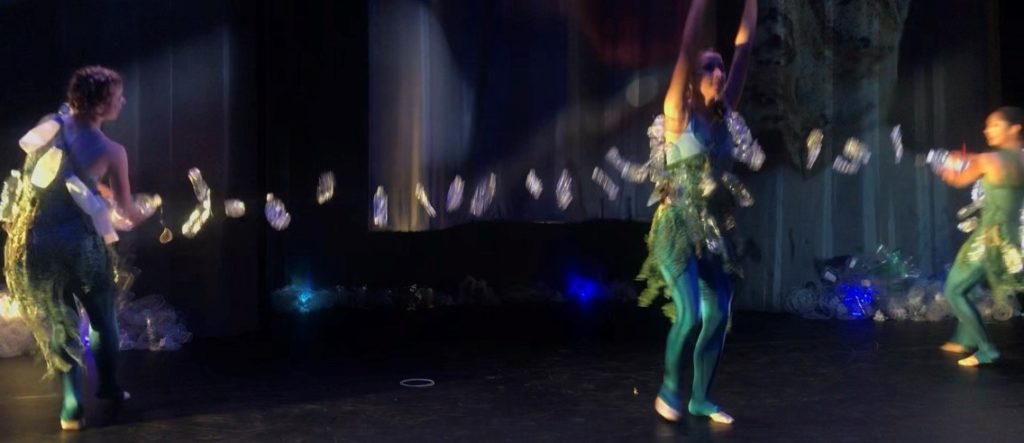 "YOMO" is a visually and emotionally stunning performance in which dancers move like swaying seaweed, playful marine animals and graceful birds through watery projections and a rhythmic soundscape that transforms the room into an ocean, and carries the audience in on its tide. We were immersed in the experience of creaturehood in the ocean's depths, shallows and shorelines as tangles of plastics and slicks of oil engaged creatures in a dance that was as playful and beautiful and it was terrifying and deadly. And that was the point – to evoke audience empathy for creatures who have no construct for recognizing the deadliness of the materials and substances that we humans recklessly introduce into their life-scape, their ocean home. "YOMO" evokes empathy through art.
We were spellbound and heartbroken – and all the more affirmed of the importance of our work with #recyCLEAN and The Avenue Concept. Through Steven Siegel's public art installation, we aim to engage the public to influence a massive shift in attitude and action around plastics use – and the misuse that often finds its way into your ocean, our ocean.
On Thursday, still freshly inspired by "Your Ocean, My Ocean," Jen practiced making some art and taking a stand with Zero Waste Providence at a City Council meeting to support the bag ban bill proposed by Councilwoman Jo-Ann Ryan. Here in the capital city of the Ocean State, we have the chance to become a model for the rest of the country, making better choices so that future generations can enjoy an ocean free of plastic bags and the devastation they cause marine life. Happily, the council unanimously voted in favor of the Retail Plastic Bag Reduction Act in this first round; it needs a second round and the mayor's approval to become a law.
Here's Jen with the poster she made for the occasion. She's warming up to paint The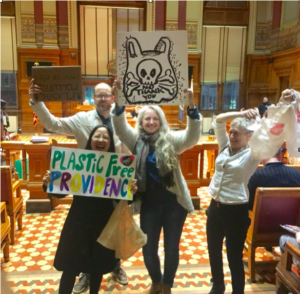 Avenue Concept's outdoor walls and to create some sculptures out of the plastics collection.
Finally Friday arrived, and with it, the usual fun of meeting at White Electric Coffee. We went from there to The Avenue Concept and had a quick meeting with 3D Program Manager Brian Dowling, and then were off to Rhode Island Resource Recovery to meet their dynamic Communications Coordinator Katherine Hypolite-MacMannis. Katherine was so welcoming and enthusiastic about our project. She really appreciated the way we have been spreading the word about "CLEAN and CAREful recycling" as we collect containers from cleaning and care products.
Katherine answered all kinds of recycling questions we had. Here are some tips we
learned to become even better recyclers:
Always give your containers a rinse – keep food out of the recycling stream.

Put your lids back on your containers when you recycle before putting them in the bin.

Never put any kind of plastic bag or plastic film in your curbside recycling bin. These can jam up the machinery and even cause fires. Take single-use plastic bags back to the store that provided them; they usually will have a specialized recycling bin onsite.
We've been excitedly brainstorming about the second-life of the plastics we've collected for Steven Siegel's sculpture after it comes down next year. Our goal is to give it a second life that is appropriate for a material that will take 500 years to break down. Our dream is to have it return to Providence and the folks who helped us collect it in a form that gives back to the community, like beautiful park benches. Bonnie found some inspiration in the form of a video about an elementary school student who had created a park bench project made from recycled lids he rallied his school to collect.
Katherine let us pick her brain for connections to make this second life happen – like companies that take the material and turn it into pellets that can then become new raw material. Unfortunately, they all seem to be out of state – as are the companies that actually manufacture benches. Wouldn't it be amazing if this could all happen right here in the Ocean State? Do you have ideas and connections? Do you know someone locally who can turn all this plastic into benches or some other wonderful use? We want to hear from you: recycle@theavenueconcept.com.