In which Bonnie and Jen connect RIC to Earth Week and PVDFest to World Oceans Day
While artist Steven Siegel does not take an environmental stance with his sculptures made from recycled materials, 3D Residents Jen Long and Bonnie Combs are looking for ways to translate his next piece to current events. World Oceans Day is coming up on Saturday, June 8 and the 3D Residents are once again collaborating to bring awareness to it. The dynamic duo came together a couple of years ago to create a World Oceans Day Eco-Festival at the Cable Car Cinema, including a screening of "A Plastic Ocean" as well as numerous musical performances, performing artists and upcycled art. This year the two are looking for creative ways to tie the Siegel sculpture and World Oceans Day to PVDFest, which runs June 6-9.
They met with Jen Smith and her staff at the Downtown Providence Parks Conservancy to discuss plans at Burnside Park and how World Oceans Day could be thematically programmed into the PVDFest activities offered that day. Bonnie and Jen are also exploring marching in the PVDFest parade to highlight World Oceans Day and utilizing some of the collected plastic for the sculpture. Anyone interested in marching along should reach out to Bonnie Combs or Jen Long on Facebook or email Jen@TheWhaleGuitar.com.
Creating partnerships in the community requires that you network and go to events where people of like mind will be. On that note, the same night after meeting with the Downtown Providence Parks Conservancy, Bonnie attended the Publick Occurrences event on Climate Change at Rhode Island College (RIC). She sat with RIC's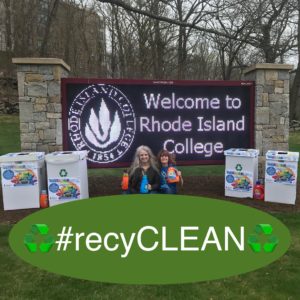 sustainability coordinator, Jim Murphy, who worked with Bonnie and Jen on hosting several of the #recyCLEAN recycling boxes on campus during Earth Week. The audience was given the opportunity to participate via hand-held voting devices, and a total of 98% said that climate change is real, with 82% saying that humans are the primary cause and 16% saying that it is mainly a natural phenomenon. Following the panel discussion Bonnie was able to meet up with some of the panel speakers and other people in the audience.
On Thursday and Friday that week, Jen and Bonnie visited some of the #recyCLEAN recycling box host sites to collect the boxes to bring them to RIC for the Earth Week collection. Many thanks go to Sprout CoWorking, Regency Plaza Apartments and DBVW Architects for hosting the boxes since last fall and for contributing several bags of clean, colorful plastic to the art sculpture. The boxes were dropped off at RIC and placed at Penfield Hall, the Student Union, Adams Library and Craig-Lee Hall from April 22 to April 26.
Friday, April 19 was a significant day in Providence as the city installed its first marina trash skimmer at the Hot Club. Click here for coverage by WPRI-12, where you'll catch a glimpse of Jen near the end of the clip. The project was a partnership between Clean Ocean Access, the Hot Club, Woonasquatucket River Watershed Council, Providence River Boat Company and 11th Hour Racing. The unit will collect approximately 30 pounds of trash a day and will be emptied by Hot Club employees. According to Dave McLaughlin, Executive Director of Clean Ocean Access, who has already installed four of these units with more sites lined up, the trash skimmer at the Hot Club should remove about 10,000 pounds of a trash a year from the Providence River. Though the Hot Club has recently stopped using plastic straws and uses biodegradable hay straws made from wheat instead, the skimmer that day was still collecting a mix of colored drinking straws, Styrofoam cups and broken bits of plastic.
If all of this activism has you jazzed and wanting to do something, then save the date of Saturday, May 18 to attend the SustainPVD Fair at The Avenue Concept! Events throughout the day will include a Compost Workshop hosted by Groundwork Rhode Island and a Rain Barrel Workshop at the SustainPVD Fair hosted by the Woonasquatucket River Watershed Council. There will also be several vendors offering ways to make your home more energy efficient, advice on how to go solar and more. You'll also be able to access The Avenue Concept's Paint Bar and contribute to the graffiti wall throughout the day! For more info, reach out to SustainPVD@providenceRI.gov.
Meanwhile, keep your eyes on The Avenue Concept's social media channels for current updates on the project!