"Public art, by its very nature, is art that is for the people and of the people."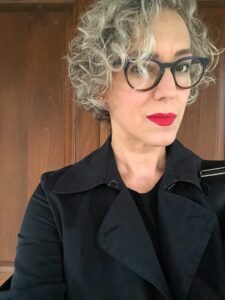 Fran Loosen is the newest member of The Avenue Concept team, working in engagement and advancement. In addition to creating a new role within our organization, she also brings a new energy to the team – and a lot of it. Have you taken one of our self-guided public art walking tours? Fran mapped those. Encouraged your kids to explore public art with our resource guides? Fran put those together. Received an Avenue Concept postcard in the mail? Fran sent those.
With that in mind, we thought we would take this opportunity to help you get to know Fran.
What's your background?
I've spent most of my professional life in various aspects of the social/nonprofit sector. I started my career in development and became an executive director of a startup organization at 25. My education is in art history and I have a MBA/MPA focused on strategy, innovation and marketing. In recent years, I've worked in philanthropy, leadership development, program strategy and advancement, as well as experience design. My most favorite recent role was as a volunteer educator (docent) at the RISD Museum.
How did you wind up connecting with The Avenue Concept (TAC)?
I will never forget walking through Downtown one night and seeing BEZT's She Never Came slowly roll into view. It was 2015. I had just moved to Providence and I just stood there with my mouth open – it hit me that much. Little did I know that that piece and Natalia Rak's Adventure Time would be the beginning of a remarkable collection of work in the city.
Later, I heard [TAC founder/executive director] Yarrow Thorne speak on a panel. I went right up to him afterward and told him I wanted to get involved. Nearly four years later, we had a meeting and talked about the role I could play on the team.
What is your role and what are your goals for TAC?
My professional focus has been in strategy, program development, experience design and engaging people in creative ways. My role in engagement and advancement encompasses all of that.
My goals in the short term are to ensure that the community equates TAC with the work we do bringing art to the public – that whenever someone looks at one of our iconic murals or walks by our ever-evolving sculpture program they know TAC by name and reputation for outstanding work.
What about over the longer term?
Long-term my goal is to fund even a fraction of the brilliant ideas that come out of our creative and awesomely talented team every week. Seriously, this team is on fire with incredible ways of thinking about the role of art in community life. My role is to help find the right strategic fit for those ideas with potential resources available in the community.
What value do you believe TAC brings to the community?
The Avenue Concept makes public art happen. Public art, by its very nature, is art that is for the people and of the people. The beauty of public art is that it's accessible, a museum or a gallery without walls to be enjoyed, considered, deliberated and celebrated by everyone in the community because it is for the community and resides with us every day.
The work we do selecting and collaborating with artists to make their vision come true, the support we provide from concept to completion, the ways that we engage our community through storytelling and deeper ways of seeing, that's the value added beyond what is easily visible to the eye.
Can you offer a specific example of how that value translates to the general public?
Early on in the pandemic, we realized we would have to cancel some of our most exciting and remarkable community events and we were worried about what was going to happen. Our team got together and just spun ways that we could help out with the resources we had. Our immediate desire was to be a source of beauty and calm in the midst of what felt confusing and chaotic, so we mapped out two self-guided tours that people could walk, drive or bike to see the majority of work on view in the city. We supplemented those tours with questions and activities that would encourage participants to dig a little deeper into what they were seeing. At last count we've had over 5,000 views of the maps and a lot of responses noting how the tours gave them a better appreciation for the artwork.
How would you like to see the community value that work?
Much like public radio, TAC is supported by all levels of donors, from people who invest large sums of money and from individuals for whom a gift of $25 ranks us in their top three contributions of the year. That's the important part. Because our work is accessible, without fees or barriers, it's the deeply personal connection people have to the art that determines their willingness, if they are able, to support that work financially. That enables our program to succeed: when people value what we do and are willing to contribute to making it happen.