Plus educational resources for kids and educators!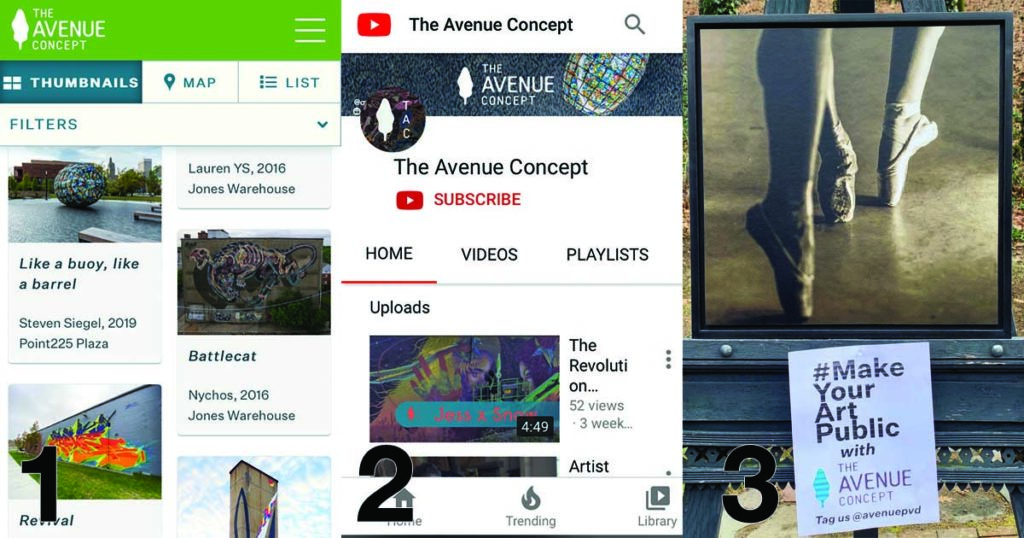 Spring is here! Right? Well, the weather… meh. The governor is still urging us to stay at home (for the safety of everyone) and getting out and exploring is increasingly looking like not the best option. But fear not! As the Providence Journal noted, "public art never closes." As always, your friends here at The Avenue Concept have some ways for you to explore and engage with public art, even from the comfort and safety of your own home.
1. Take a virtual tour
Our website has all the resources you need to take a virtual tour of our public art offerings throughout the city. Our interactive map will let you navigate it all and sort by type of art (2D 0r 3D), location and more. The individual pages for each artwork will provide more context and stories to guide your explorations. And we've even put together some prompts and questions to help you go deeper into the art. These are also a great resource for families and educators to provide kids with opportunities for artistic enrichment while they're learning from home.
2. Subscribe to our YouTube channel
Our YouTube channel has so many cool visuals and stories to enhance your public art experience. You can meet the artists, go inside their studios, and take a look back at projects from previous years that are no longer on display. Plus, if anyone questions why you're spending so much time on YouTube, you can tell them, "Back off – I'm getting an art education."
3. #MakeYourArtPublic
Why limit yourself to exploring other people's art when other people could be exploring yours? We're encouraging everyone – whether you're a professional artist, serious hobbyist or novice with a box of colored pencils – to post their own artworks in their windows at home and share photos of them on social media. Be sure to tag us (@TheAvenueConcept on Facebook, @avenuepvd on Instagram and Twitter) and use the hash tag #MakeYourArtPublic. Learn more…
There is so much you can do to explore and engage with the world, even while you're doing your civic duty to stay at home. So enjoy (or make) some public art today!